Classes of 1986 and 2015
The championship rings worn by a father and a son could be considered as just jewelry or symbols of NAIA World Series titles won by both 28 years apart. However, for Lewiston's Brett Holley and his son Zach, these rings have much deeper meanings – that of love, respect, manhood and, yes, a family bond.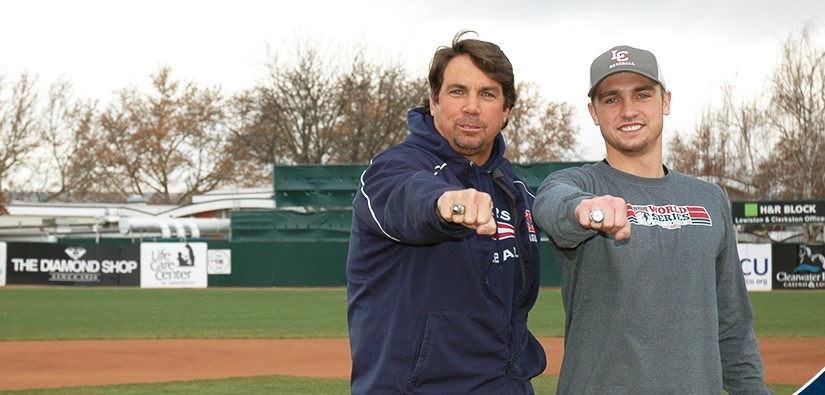 They went through a lot to get these rings, each taking their own unique path to reach the same wonderful outcome – a championship in their final year in a Warrior baseball uniform.
With Brett playing on the 1987 Warrior baseball team and Zach on last year's LC squad, they are believed to be the first father-son duo to win NAIA national baseball titles as players. Brett says he can't find another father-son duo at the NAIA level and isn't sure if it's been done at any level of collegiate baseball.
"That's pretty awesome," Brett says proudly. "I kind of knew about it going into last year. And it was his senior year so if it was going to happen, it had to happen then."
"It means a lot to me because it's a pretty big accomplishment," Zach says. "I'm proud we could both win a title here."
Zach had come close to a title in the previous two seasons when the Warriors made the championship game, only to finish second. It also appeared LCSC was heading down that path last year when St. Thomas took a 7-1 lead in the fifth inning. The game was then delayed by lightning, only to have LCSC rally for nine straight runs after action resumed for a 10-7 win and the program's NAIA-leading 17th national title.
"I was thinking 'Oh God, this is going to slip away again,' " Brett says about the early deficit in the title game. "But then lightning struck, literally."
"It was great finally getting to the top," says Zach, who like his father was an outfielder at LCSC. "After we won, it was kind of a blur for about a week. It took a while for it all to sink in."
Brett played for what arguably is considered the best LCSC team to win the title. The 1987 team posted a 55-10 record. In the Series, the Warriors scored 105 runs in six games and outscored the opposition by average of 12 runs a game – both tournament records that still stand today. The LCSC record book is also littered with individual season marks. Among the names, Brett Holley, who is tied for fifth in doubles for a single season at 26, 12th in batting average at .429, and 14th in runs scored with 82.
Some of the names from that team – Montie Phillips, Lonnie Phillips, Rusty Harris, Pat Mackey, Steve Decker, Steve Reed and Galen Sonntag – are still talked about today. A few still live in Lewiston and Brett has remained in touch with most. When the '87 club was inducted into the athletic department's newly-formed Hall of Fame last spring, it was Holley's house that served as the hub for the group.
It was a reminder for Zach of what could be accomplished, even though he already had met a number of his dad's teammates and had heard the stories.
"A lot of his friends are the guys who played here and everyone had rings so I would see that all the time," Zach says. "That was my number one goal for coming here, to get a ring."
"I'm sure he got tired of hearing about that team and the names Harris, Reed, Decker and others, and this was how we did it (winning the title)," Brett says. "Ed (then-coach Ed Cheff) did a great job of building that team, but Jeremiah (current coach Jeremiah Robbins) has done a great job as well of creating the right mentality."
Ah, the right mentality. That's the mentality was the key ingredient for Cheff in turning LCSC into a baseball dynasty. He instilled in his players a mental toughness so that they could handle any situation that arose. Some players handled it better than others, but most still rely on that toughness in their everyday lives. Once such individual is Brett, who co-owns Well Connected Electric in Lewiston where Zach now works.
Brett began coaching Zach's baseball teams when Zach was 10. By the time Zach graduated from Lewiston High, Brett has been on the coaching staff of his baseball teams for all but two spring or summer seasons.
"From my standpoint, I was way harder on him than anyone else," Brett says. "One reason is because it was easier to pull him out of a game to substitute rather than make someone else mad. But I also wanted to make him tough. Ed had a way of when you were sitting in the captain's chair of knocking you back to the stern. So I was pretty tough on him. My wife (Jennifer) got after me a few times because of it."
"I understood," Zach says. "It was good. Growing up around the LC players, it was the only way I knew how it was done."
"Honestly," Brett adds, "the biggest fight we had as coach-player was him wanting to pitch and play shortstop and second base. He did pitch well when he pitched, but he wasn't going to be a pitcher."
There wasn't a big difference between the father-son and coach-player relationship. It was the same way at home when the two discussed the game Zach had played.
"Again, I go back to Ed," Brett says. "You don't go around patting each other on the butt saying everything is OK. You try to learn from what you did wrong. He (Zach) learned a lot of stuff that way, but he was also old enough to understand how to play the game the right way. That really helped him when he came to here to LC. He came in knowing the LC way. He was just underdeveloped so that really helped him until his body caught up. He knew how to run the bases and he knew how to fill the gaps."
Zach finished his senior year with a .299 average. He went 35-of-117 at the plate with 34 runs scored, three doubles, three triples, and a home run. He also drove in 10 and was second on the team with 12 stolen bases. During his sophomore season, he won the team's Golden Glove award after not making an error on 70 fielding chances in center field.
"I think it's going to be a melancholy deal for me this year because I'm not going to be able to watch him play anymore," Brett says. "I enjoyed watching him play and I'm proud of him. I know it still will be fun to go watch some of the underclassmen play who were his teammates last year that I got to know, but it's still kind of sad."
Now, the two are tied together by work at Well Connected Electric. Recently Brett and Jennifer took a vacation. Brett says there were some major projects to bid on that he worked on, but was impressed with how Zach stepped up and took some ownership as well with the project.
The competitive fires between the two still exist, they just have carried over into a new venue – golf. Brett has been playing for a while, but Zach just starting playing regularly this summer.
"I used to own him but he's closed the gap real quick," Brett says. "I think he's cut it from something like 12 strokes to 2."
"Oh I think I'm ready to take him," Zach says.
"He's mumbling over there about something," Brett says, laughing. "He still has to earn it."
The two, along with the Holley's daughter, Chelsea Blewett, have always been competitive, Brett says.
"That drives Jennifer crazy," Brett says. "All of the kids and I are always competing. Chelsea might have even been the best athlete. She was strong."
Jennifer, too, is competitive in her own way. She is the reigning three-time Chili Cook-Off champion in the annual contest sponsored by the LCSC booster club, the Warrior Athletic Association. Jennifer sits on the WAA board of directors.
Even as Brett and Zach show off their championship rings, the competitive fire stirs.
"Maybe he is a little bit jealous because my ring is bigger," says Zach, who is engaged to former LCSC volleyball player Kaylee Rector.
"Hey, we weren't ashamed to put our record on our ring," Brett fires back.
Both begin to laugh. A father-son bond indeed.