Class of 2009
Dan Robinson believes in second chances. That's why he made the most of his and has turned it into a great career in the Seattle area after he earned his Bachelor's degree at Lewis-Clark State College.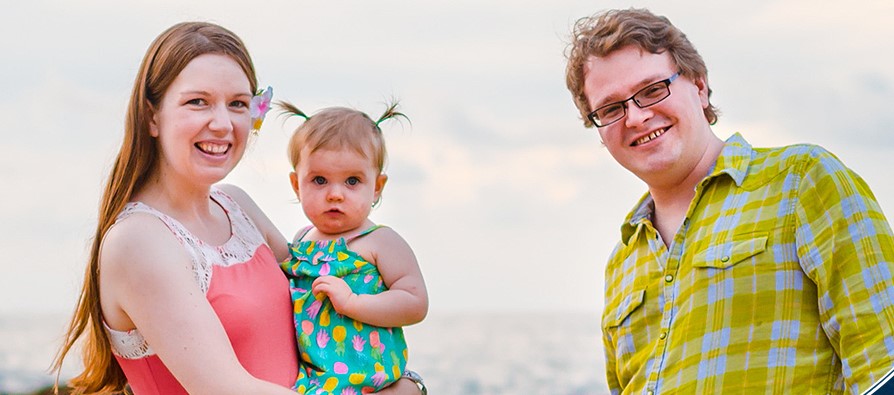 Dan was born in Lewiston and his family lived just a couple of blocks away from the LCSC campus. Dan admits that he struggled with drug addiction early in high school, but said that he was fortunate to be accepted at the Tammany Alternative Center while he turned his life around. Because of that opportunity, he graduated on time from Lewiston High School and enrolled at LCSC in 2003.
"It was ranked as one of the 'top public colleges in the West' by US News & World Report," Dan said of his reason for choosing LCSC. "It is also affordable and being within walking distance of my apartment at the time helped."
Dan said the LCSC faculty had an immediate impact on him.
"By far the professors," Dan said about his favorite thing at LCSC. "All of my professors were smart, fun, and approachable.  I originally thought I could start my college career at LCSC and move to a university, but after meeting some of the teachers and taking some classes, I realized that LCSC was the right college for me.  I don't think I would have learned as much from a 'big name' college."
Dan, who graduated with a degree in English and a minor in Video Production, said he has a lot of great memories during his time at LC. Among his favorite classes were The History and Structure of the English Language with Harold Crook where he met his future wife Cassaundra, Poetic Forms with Mark Sanders, his Senior Research class with Okey Goode, and all of his video production classes with Sean Cassidy and Patricia Keith.
"Obviously meeting my smart and talented wife is at the top (of the favorite memory list), but runners-up would include the fun I had making short movies in Sean Cassidy's classes," Dan said. "I still have them."
Dan said his college degree has opened several doors for him, albeit not necessarily in the English field.
"I feel that having a four-year degree on your resume can show a potential employer that you have the dedication and intelligence to see to the end a complicated, long-term project," he said.  "LCSC's small, intimate classes and access to teachers gave me an in-depth, quality education that I use today.  I learned to take a large quantity of information – whether that be a data base of sales information, the text of Hamlet, or the films of Stanley Kubrick – and organize and present the data to support my proposal, and sufficiently address any counter argument. I still use those skills today, every day, in my work and at home as I 'negotiate' with my wife."
Dan said he originally wanted to work at a museum or for a cultural non-profit organization after he and his wife moved to Seattle following graduation in 2009.
"I thought it would be a cool and rewarding place to work, but then I fell into a line of work that was less cool but more rewarding," he said.
He took the first job he could after the move, which was the assistant manager at a Goodwill store in what he called a bad part of town. After a year, he took a job with a local vending company that invented a self-checkout convenience store (called a micro-market) to replace regular vending machines. A micro-market takes both cash and credit cards and has the advantage of offering more products, different sizes of selections, and a variety of take-home items like bread and milk. A micro-market can be found in company breakroom and schools, among other places, and is entirely self-serve.
"They needed a convenience store manager that was good with computers," he said.  "I put myself through college by managing convenience stores for the local company, Coleman Oil, so I was a natural fit."
Two years later, he was hired by a new company trying to get into that same micro-market field, and a year later, he was hired by Canteen, a division of the Compass Group, which is the largest food service company in the world. The company provides services to restaurants, corporate cafes, hospitals, schools, sporting/concert arenas and more. After a month with the company, he was promoted to managing one of its largest accounts.
"Professionally it is very rewarding," Dan said about his career.  "It is nice to be valued.  My employer has a great company culture and my boss does frequently make a point of telling me what a great job I am doing.
"I love happy customers.  When we install a new micro-market in a location where people had to previously bring their lunch, we are looked at as heroes.  I'll never get sick of that.  There's also great benefits and I'm able to be home in the evenings and weekends with my family."
Dan and Cassaundra, have three children, Sydney age 5, Eloise age 2, and Finley, who is 9 months old. He said the family likes to go to the beaches in the Seattle area as well as travel. Dan also says he is interested in politics and astronomy.
"I'm very thankful for all the support I've received in all my years," Dan said.  "LCSC was a fantastic choice for me.  It's a great 'bang for the buck.'  Use the small classroom sizes and access to teachers to your advantage."