Class of 2016
On a recent late January visit to the Lewis-Clark State College Activity Center, Jacob Wiley had a chance to take a step back and examine all that has happened to him in a three-year span. During that period, he went from a somewhat unknown basketball player starting his LC career to playing in the NBA.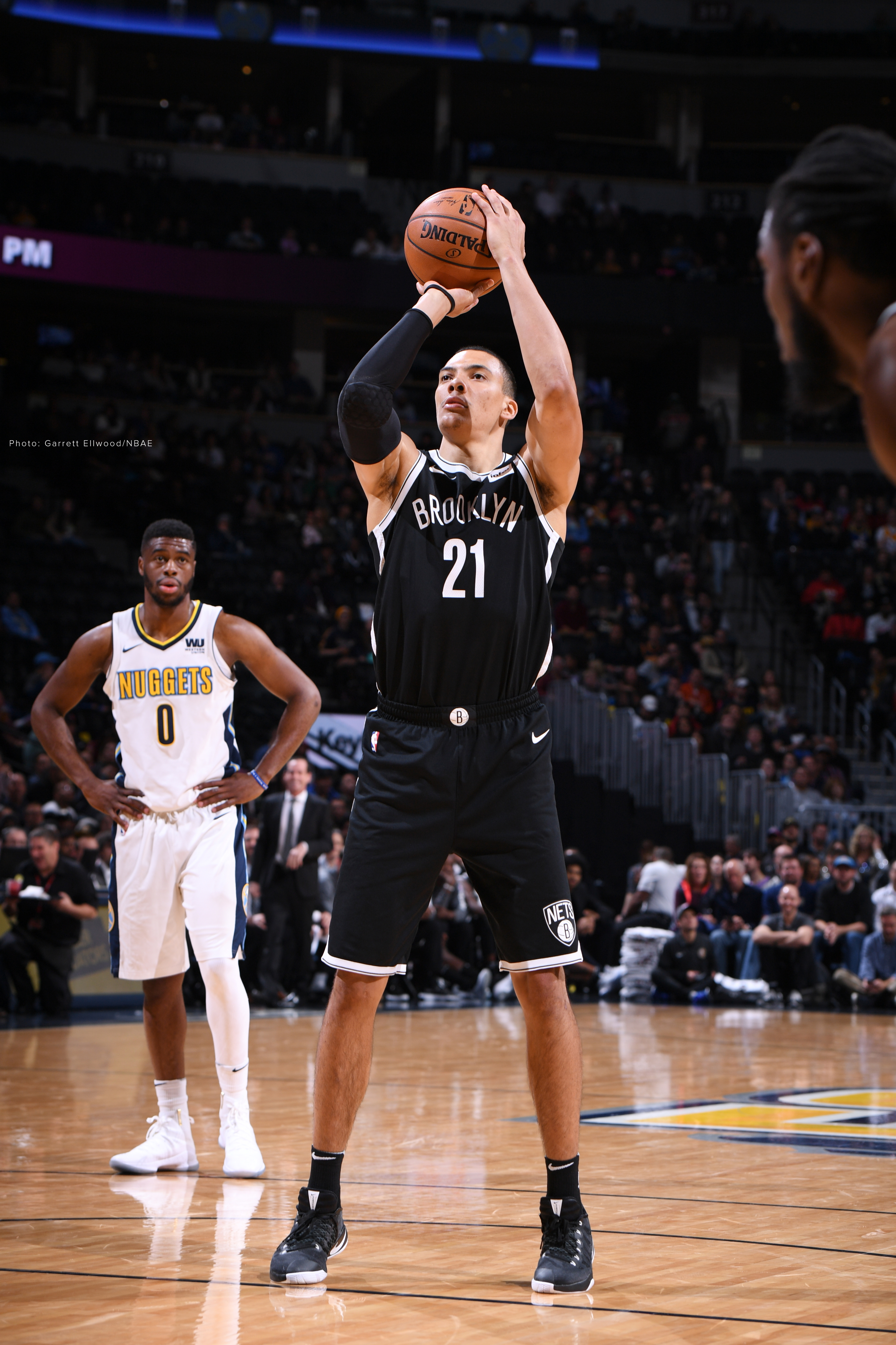 Wiley, who hails from Newport, Wash., near Spokane, was a two-year standout basketball player at LCSC and is the first Warrior athlete to play in the NBA. He saw action in five games with the Brooklyn Nets In November and December last year, but then was sidelined by an injury.
During his recovery, Wiley returned to his Spokane-area home, and he made time to visit LCSC and the Activity Center, where he was honored during halftime of a women's basketball game.
"You know whenever I come back to this gym it puts things in perspective for me," Wiley said during a radio interview with KOZE. "Playing two years here in the NAIA and then just about two years later playing in an NBA game, it's been amazing.
"This gym is special to me. Some of the greatest college memories are in this gym. We won championships in this gym. We only lost one game in my two years here in this gym so it's really nothing but positive memories. Some of my best friends played in this gym. It is just a very special place to me. It's very near and dear to my heart."
Wiley, a 6-foot-8 forward, is nursing plantar fasciitis in one foot and an ankle sprain with the other foot. He's hoping to be back to 100 percent by the end of February and resume his basketball career.
"My agent is handling a lot of this, but the goal right now is to get healthy and back into the NBA and pick up where I left off," Wiley said.
Wiley was signed by the Nets last summer and played mostly with the team's farm club on Long Island. In his time with the Nets, he saw a season-high 21 minutes in a 112-104 loss at Denver. He scored four points and grabbed eight rebounds in the contest.
After his injury, however, the Nets released him.
"There's NBA interest right now, but coming off an injury, it makes things complicated," Wiley said. "Nobody wants to bring in someone that is hurt. So they have to make sure I'm healthy and back to 100 percent. And then we can have serious talks.
"But right now my focus is to keep resting and get my foot healthy so when the opportunity comes, I'm ready to go. If they do tests on me, I will be able to pass them with flying colors. If not, if the NBA does not work out, then we can pretty much go anywhere overseas."
Being patient, however, is the tough part for Wiley. He's a very driven individual who earned his bachelor's degree in communications after his junior year at LCSC. In part because he had a newborn daughter and family support in Spokane, and a desire to attend graduate school, he transferred to Eastern Washington for his final year of college eligibility. He had an outstanding year for the Eagles and was named the Big Sky Conference MVP.
"It wasn't easy when he graduated from here," LCSC coach Brandon Rinta said. "It dawned on us that his best option for his family really was to go two hours north, but there's no hard feelings. He did it the right way. He graduated from here. It was an option because he was such a good student. And he's reaping the benefits of an incredible work ethic right now."
Wiley led LCSC in scoring both season he played here. He averaged 15 points a game and scored 20-or-more point in 16 games. His 930 career points ranks 12th on the program's all-time scoring list and his 101 blocked shots ranks second. He also averaged 7.5 rebounds. He was a two-time all-Frontier Conference selection, including MVP his junior year when he was also a first team NAIA All American after being an honorable mention selection during his first season.
Rinta said the January event was great because it gave the basketball program an opportunity to honor Wiley, especially since he never had a Senior Night at LCSC.
"This was an important part of Jake's life, his two years here," Rinta said. "This is where he figured out that he has the potential. When he came in the doors here everybody had used the word potential but a couple of months into his first year here, it donned on him just how good he can be and I think that motived him. He is the hardest worker I've ever coached."
Rinta said Wiley was at the weight room when it opened at 5:45 a.m. each day and following a rigorous workout, he would go to the gym and shoot for more than an hour.
"And the workout he would do in the weight room was not the workout you or I would do with the leg extension and the lat pulldown," Rinta said. "He's over there, for lack of a better term, killing himself on the racks. By the time I got to school, he would be dripping with sweat from his second workout (shooting)."
Wiley said he keeps in touch with his former LCSC teammates through a group text. He also had some show up at his NBA games in Denver, Portland and Phoenix.
"It's just surreal," Wiley said about his basketball career. "It all happened so fast. I never had a chance to step back and look at what's going on. It was just always pedal to the medal; let's push it to see how far we can go. And it paid off. You don't get to look back and see what a jump that was from the NAIA to the NBA. You just go and go and go. Finally, one day you are in an NBA game and you start to ask 'what's going on?'
"Obviously the NBA is a different animal from anything else in the world. You are playing against the best in the world. It's easy to doubt yourself sometimes but in my experience, yeah, just having confidence in yourself and believing that you belong there is half the battle."
The current downtime has allowed Wiley to spend more time with his wife and 2-year-old daughter. A second child is due this spring.
"Being a father just changed the trajectory of my life," Wiley said. "It changed the way that I approached basketball. It's what made me push harder to play professionally because I wanted to provide for my family. Once my daughter was born, it was then 'OK I need to focus on this basketball thing. Let's see how far we can go.' So my daughter for me is just a huge inspiration. In every part of my life she inspires me."
Rinta said he will always be thankful that he had the opportunity to coach and get to know Wiley.
"He is such a passionate person," Rinta said. "I'm excited to see not just where his basketball career takes him, but where his professional life takes him when his basketball career is done."
Update: Since this story, Jacob played with the Dallas Mavericks in the NBA Summer League in 2018.