Class of 2006
Osasere Evbuomwan admits she was a little jealous stepping onto the Lewis-Clark State College campus for the first time in 14 years and seeing the chemistry labs in Sacajawea Hall.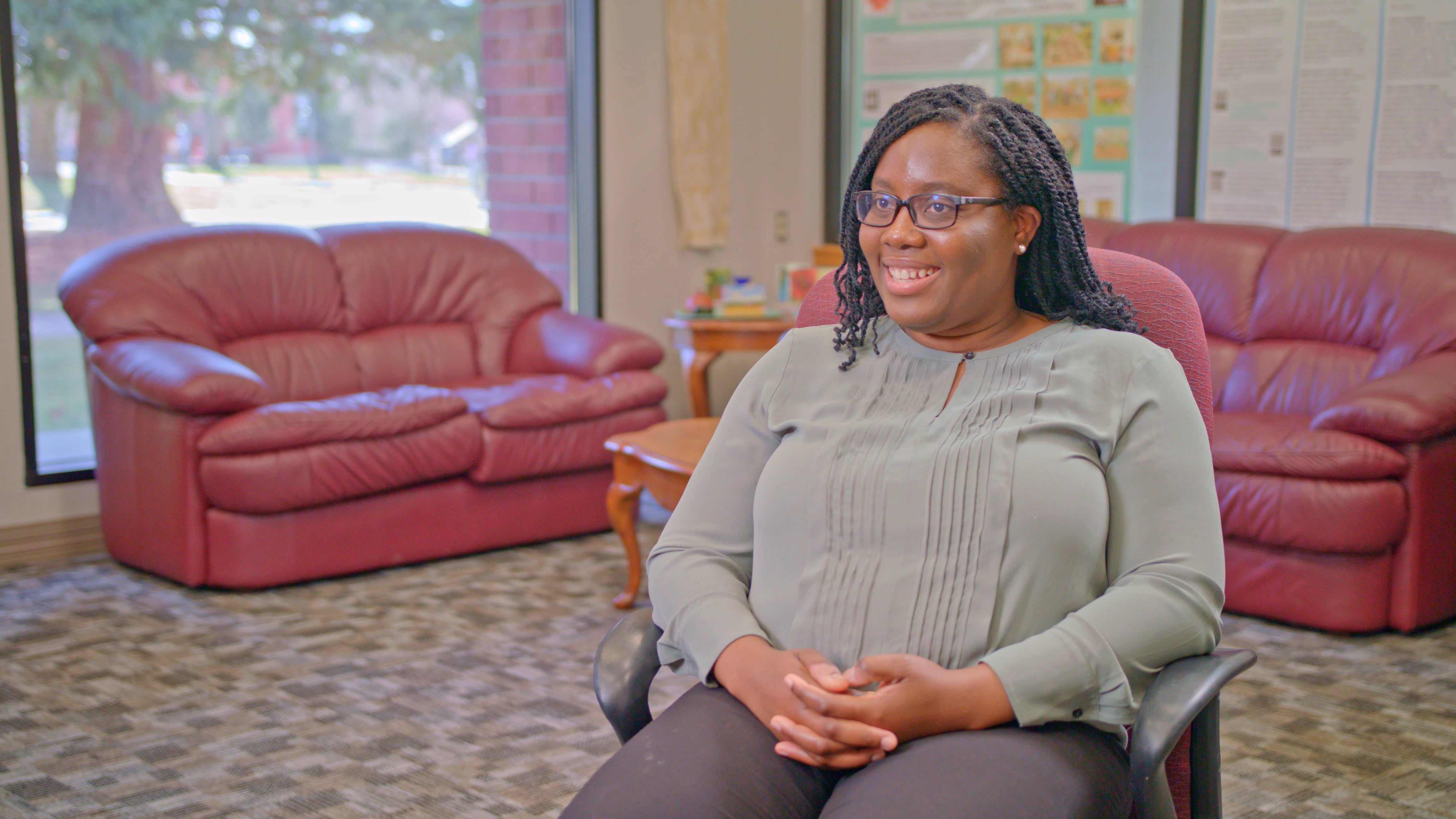 That building didn't exist when Evbuomwan graduated from the college in 2006 with a bachelor's degree in chemistry and a minor in math. Sacajawea Hall was completed in 2009 and includes large spaces for labs for both natural sciences and nursing classes.
"The labs are really, really nice in there," Evbuomwan said. "I'm a big supporter of large labs spaces because it gives the students the opportunity to act like scientists in the field. It's a very conducive environment. It's great they have those resources. And I was happy to hear there seems to be a lot more research going on with the students now. It's really nice to see students can get those experiences here."
Evbuomwan is a great judge of labs and the experiences they can offer. She has been around them since her time at LC State and is currently an assistant professor of chemistry at the University of San Francisco. She returned to LC State in early March to give a talk to students on "From LCSC to USF: A Reflection on my Academic and Personal Journey." The talk was sponsored by Idaho INBRE, the IDeA Network of Biomedical Research Excellence.
"I'm currently teaching in a building at the University of San Francisco that is old and has been around for decades," she said. "It does its job, but sometimes you want your workspace to inspire you. I think having really nice lab space can inspire students to be creative and help them want to keep pursuing whatever they are pursuing. It allows them to focus on the work."
Focus has always been an integral part of Evbuomwan's character. After attending a semester of college in her native country of Nigeria, she came to the United States at the age of 17 to finish her degree. She didn't have a particular school in mind, just that she wanted to start immediately in the spring semester. She applied to a number of schools, but it just so happened that LC State was the first to respond. She said it also helped her decision that she was put in touch with another student from Nigeria who had recently attended LC State.
"I never really looked on the map and said I wanted to go to Idaho or a school there," Evbuomwan said. It just so happened, I ended up getting accepted to LCSC and came here."
Evbuomwan said everything quickly became a blur because it was moving so fast. She said she didn't even have time to panic or feel home sick about the big change she was making. It also helped that she had spent her one semester in Nigeria also away from home.
She flew into Lewiston in early January of 2003 and was greeted by an uncle who lived in Missouri at the time, as well as Kathleen Grussing, who was then the director of International Programs at LC State. She said it was a shock stepping off the plane because it was her first experience with cold, windy weather and she actually suffered windburn on her face.
"It was winter, there was snow, and it was cold," she said. "But I think coming to a place that was small and the pace was a bit slower kind of helped me transition to living in the United States. Just having the space to figure out where I was, and what I was doing, allowed me to slow it down enough. I think that helped me transition into life here because I was really focused on getting going.''
Evbuomwan started off as a pre-engineering major with the plan of attending LC State three years and then transferring to finish the degree. However, along the way she decided to focus instead on chemistry and math because of her interest in both.
"I actually fell in love with chemistry in high school," Evbuomwan said. "The irony is that it's the only course where I took a test and I failed (in high school). But being able to understand the chemical processes, the fundamental processes behind how drugs are made, and being able to understand fundamental processes behind daily life. I found I was able to connect to it and it made me want to pursue it."
Evbuomwan said her love of math came from her father. She said after school, she and her siblings would have math lessons, and then would play math games with their father. She said the siblings would stand in single file and the first person in line would get asked a math question. If they answered it correctly, they would get a handshake.
"My father's handshakes were the best handshakes ever," Evbuomwan said, smiling. "Like your whole body would just vibrate. He got us really, really excited about math and it is a really good memory. He did everything that he could to provide the opportunity for us to further our skills."
Classes at LC State were a bit of an adjustment for Evbuomwan, but more from a social standpoint than the curriculum.
"School was definitely different here because the class sizes were smaller," she said. "In Nigeria, the class sizes were much larger and you could easily get lost in class. Here, your professors went by their first names and the students knew the professors and were very comfortable with them.
After Evbuomwan earned her degrees at LC State, she attended the University of Texas at Dallas, which is known for its biomedical research. She earned her PhD and also spent a year there as a postdoctoral research associate.  She was then selected as one of 10 Madrid-Massachusetts Institute of Technology M-Vision Postdoctoral Research Fellows at MIT in Boston. She later took her first faculty position at Gonzaga in Spokane and now is in her second year at USF.
Since she left LC State, Evbuomwan has been involved in biomedical imaging research, ranging from synthesizing small molecules for Magnetic Resonance Imaging (MRI) to developing probes for PET Imaging. Most of the research involves trying to detect cancer earlier in patients through imaging.
Evbuomwan said it is rewarding working with students and helping them understand all facets of chemistry. She said she realized that teaching could be a career field for her while at LC State because she spent a lot of time working in the math and science tutoring center and helped other students.
"It was good to see more and more students come in because they knew they could get the help that they needed," Evbuomwan said. "I remember being in there on several occasions when someone would come in and say so-and-so told me to come to you and have you explain this. It was very rewarding to know that the time I was putting in to try and help students was appreciated by them.
"Tutoring is very different from teaching, but I remember thinking oh yeah I could tutor, I was good at it, and that I could be a great teacher. I realized very quickly that those are two very different things. But I think it helped me to learn to engage with students, especially students who are struggling with material that for me came very easily to."
And although she enjoys the classroom setting, there is still more she wants to accomplish.
"I feel like down the road I will be a strong advocate for some of my values," she said. "I want education to be something that is available to everyone. I want being a scientist or being a mathematician or being an engineer to be something that women are not uncomfortable with. I want students who come from under-served populations or under-represented minorities to feel comfortable pursuing degrees in STEM (Science, Technology, Engineering and Math). I think the next phase of my career will be somehow being a very strong advocate for those kinds of things."