Lewis-Clark State College senior Olivia Veare has found her own route to accomplishing her ultimate goal of becoming a lawyer.
Instead of the traditional college academia method of finding a pre-law degree area to major in, Veare has gone the Career & Technical Education (CTE) route as preparation for the Law School Admission Test (LSAT) later this month.
The Hayden, Idaho, native is scheduled to graduate this spring with her bachelor's degree in paralegal in the college's Business Technology & Service Division. She already has earned her associate's degree in paralegal and will graduate with a minor in pre-law as well.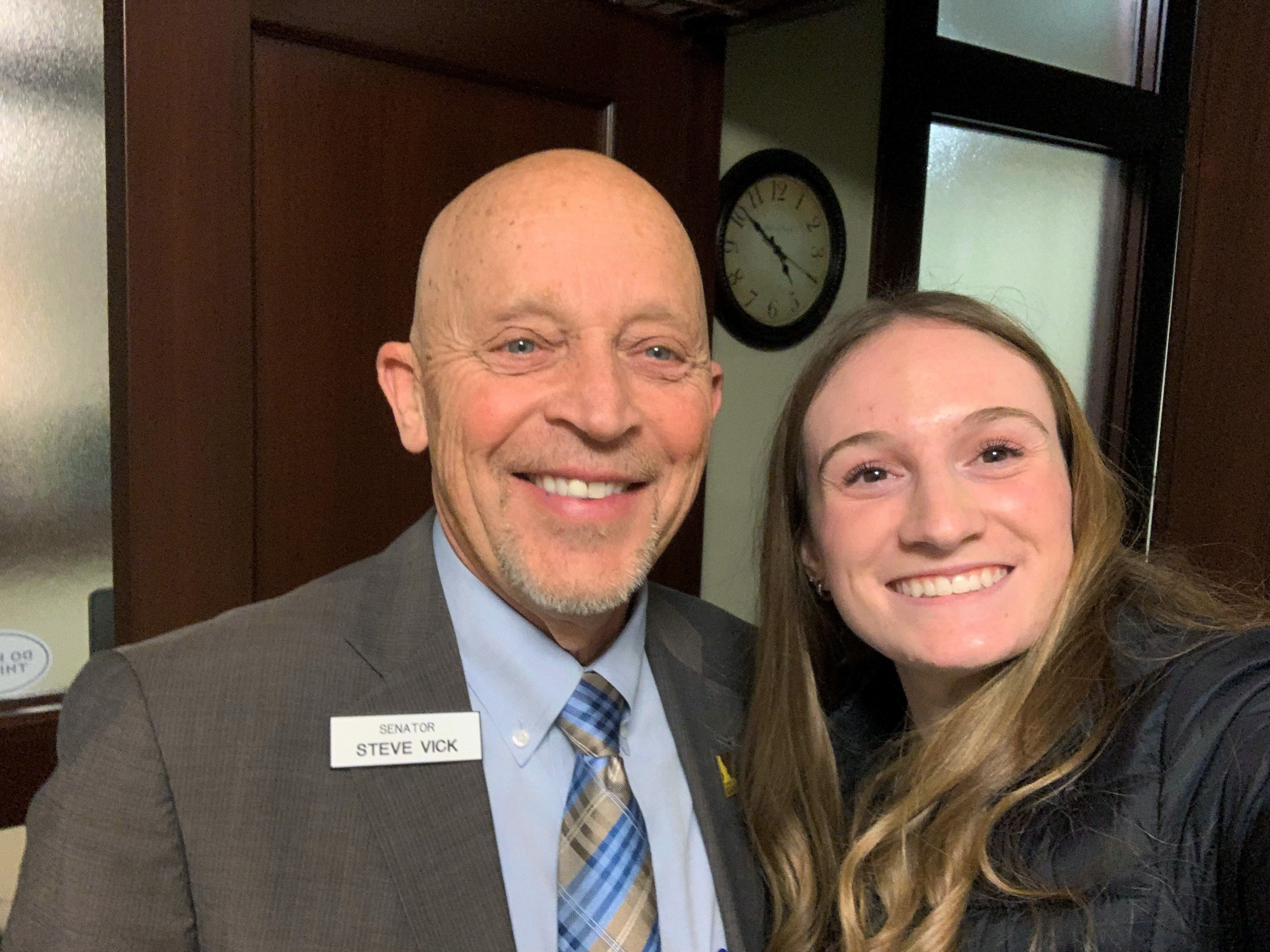 During the previous fall semester, Veare made the college's President's List honor roll for having a 3.75 GPA or higher in at least 12 graded credits in 100 level classes or above.
The CTE program has been a perfect fit for Veare, who recently spoke to Idaho legislators at the Idaho State Capitol about the important role CTE programming has played in her life.
Coming out of Lake City High School in Coeur d'Alene, Veare said she was unsure about what career she wanted to pursue. She knew she was going to college, but really didn't enjoy the traditional college class setting. During her first year at North Idaho College, she realized she wanted to become a lawyer, but was looking for something different. That is when she discovered LC State's paralegal program and decided to give it a try.
"I saw that the paralegal program was very affordable," Veare said. "I also liked the way it was structured. I didn't want to just sit in class because that's not me. I saw there were a lot of hands-on activities and fun things to do. I thought I would give it a try."
Paralegals draft correspondence, memoranda, legal and other documents. They research laws and assist the lawyers in their work through interviewing clients and witnesses, conducting investigations to collect evidence, assisting at court hearings and trials, and managing case files.
The program has been a great fit for Veare. She says she really enjoys the classes, especially those taught by assistant professor Natalie Holman, who also serves as the legal support program director at the college.
"I just love Natalie and the way she teaches," Veare said. "When you like your teachers, it makes going to classes so much better. I really like the program and how it is structured. We have a lot of class activities and internships available. It's been good for me."
Veare said along with her studies, her focus is on passing the LSAT. Upon passing the test, she hopes to be accepted to the University of Idaho Law School to continue her studies. She said while the options remain open, she is looking at possibly bankruptcy law or real estate law. Her father is a real estate attorney in Coeur d'Alene and she has worked and served as an intern in various law offices.
Veare also was one of four LC State student representatives who spent a day in Boise with state legislators as part of the Idaho CTE Student Day. The day features both college and high school students in CTE programs attending various events and talk with legislators about their experiences.
Veare attended both House and Senate Education Committee meetings where several of the students were asked questions. She also shared her story at a luncheon where she sat with Reps. Lori McCann (Lewiston) and Gary Marshall (Idaho Falls), among others.
"They wanted to hear about the CTE process and what is happening at the college," Veare said. "I got to talk about my experience and why I chose the route I did. It really was super cool. "
During the day, she also met the Idaho Division of CTE administrator, Clay Long, who is a graduate of LC State. At the end, she met up with Sen. Steve Vick of Dalton Gardens near Coeur d'Alene. Vick is a friend of Veare's grandparents from church and he gave Veare a tour of the Capitol Building, including the House and Senate chambers floors as well as the governor's office. He also took her through the chamber's back hallway that leads to the senate offices.
"He was so nice and it was really great to meet him," Veare said. "I really enjoyed the tour."
Although it was a rather quick overnight trip to Boise, Veare said she cherishes the experience.
"I didn't realize I would get to talk as much as I did," she said. "I'm very thankful Natalie chose me to represent my CTE program and the college. I really enjoyed it."
Veare said she happy to tell anyone about her experience with the paralegal program at LC State.
"I've really enjoyed Natalie and the program," she said. "It's been great for me and I know others would greatly benefit from it as well."