Current Exhibition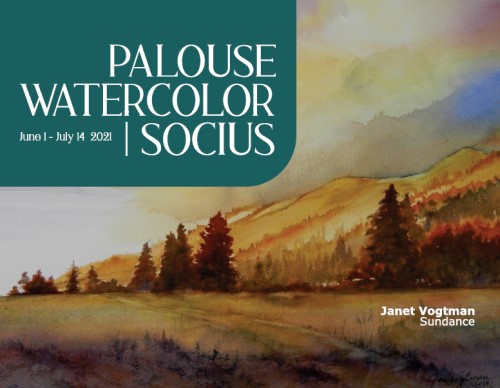 Palouse Watercolor Socius
June 1 - July 14, 2021
Artists include: David Ball, Gabriella Ball, Peggy Conrad, Christina Darby, Cathy Gottschalk, Bobbi Kelly, Sharon Macy, Judy Mousseau, Mary Reed, Cheryll Root, Peg Sack, Barney Saneholtz, Bill Symons, Joyce Tamura, Ernie Weiss, Jan Vogtman, and John Zillich.
Previous Exhibitions
Material Transgressions
January 22 - March 12, 2021
Rebecca Merkley-Omeje is a multimedia artist focused on metal, fiber, and color. She uses found, fabricated, and recycled materials to create abstract and semi-abstract compositions. These juxtapositions of materials are both reactions against and meditations on dualities: softness vs. hardness; creation vs. decay; reverence for scientific knowledge vs. a search for spiritual wholeness; deep love for the natural world vs. obsession with technology and industry. Merkley-Omeje graduated with an MFA in sculpture and painting from Idaho State University in 2018.
--
Artwalk: 10 Year Retrospective Exhibition
September 30-December 11, 2020
An exhibit celebrating featured Artwalk artists from the last ten years.
Artists featured during Artwalk are chosen annually for the substantial impact they have had on the art community, as well as creating a significant body of work.
Lewiston Downtown Artwalk is a self-guided art experience that began in 2011 as a collaboration with the LC State Center for Arts & History, Beautiful Downtown Lewiston, local galleries, organizations and businesses.