LEWISTON, Idaho – Lewis-Clark State College administrators held a special ceremony for its first students in school history to earn a graduate certificate at the college's Silverthorne Theatre on Monday afternoon.
Alex (Al) Sommerfield and Kevin Baker became the first two LC State students to earn a graduate certificate at the college. Both earned a graduate certificate in Sport Coaching.
Sommerfield, who is from Federal Way, Wash., and Baker, who is from Kent, Wash., were both members of the Warrior men's basketball team this past season that finished 22-11 and qualified for the NAIA national tournament. Only Sommerfield took part in Monday's ceremony.
Last June, LC State received approval from the Northwest Commission on Colleges and Universities (NWCCU) to offer a 12-credit online graduate program in Sport Coaching. It is one of two post-graduate offerings in the college's 129-year history. LC State also began offering a graduate certificate in Nursing Management & Leadership last fall.
Andy Hanson, senior vice president at LC State, opened Monday's ceremony by saying the college prides itself on being a student-centered, student-focused institution, which is one reason why LC State President Cynthia Pemberton wanted to hold a ceremony to honor the graduates and show the college's admiration for the accomplishment.
The ceremony also celebrated a milestone in the college's history and Pemberton explained how the graduate certificate came about, including the work of the Idaho Legislature led by Rep. Paul Amador and former Sen. Dan Johnson, now the mayor of Lewiston. In March of 2020, Idaho Gov. Brad Little signed a bill that officially amended Idaho Code to allow LC State to offer graduate-level coursework.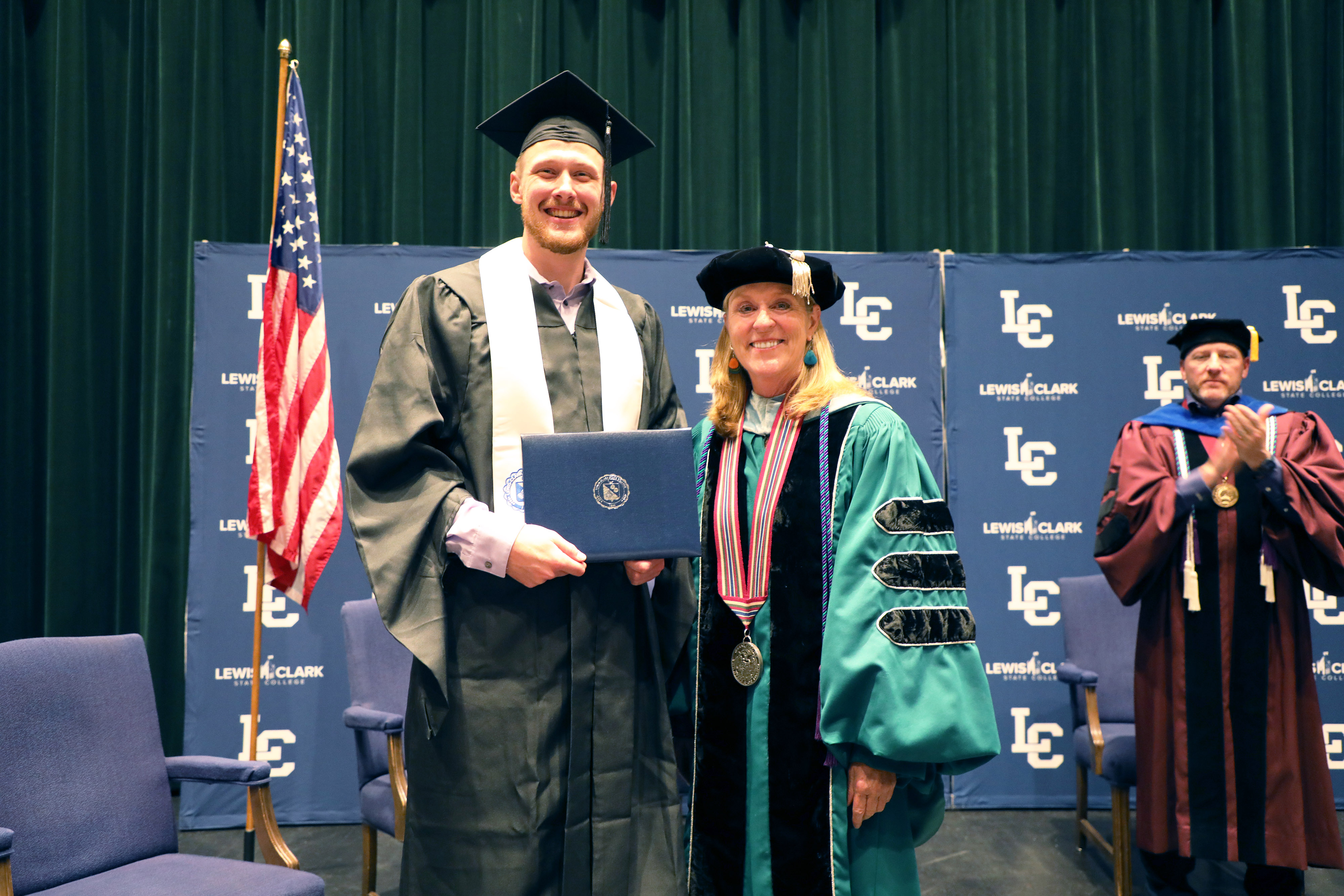 "By reaching this milestone, I hope you, Alex, leave with a sense of pride and accomplishment, knowing that the effort you have made led to the success we celebrate with you today," Pemberton said. "May your life be rich in options and opportunities, knowing that they are limited. You can wait for the stars to align, all the right ingredients to be present, or you can stand up, step forward, and take risks – calculated risks, proactively creating the conditions and circumstances you need to leap forward in life."
Sommerfield was given the opportunity to speak and thanked LC State basketball coach Austin Johnson and his family for bringing him to the college and believing in him. Sommerfield also thanked his professors, teammates, his girlfriend and his family for helping him reach this moment.