To some, it's metal, cardboard, plastic or glass. To others, like students in the Lewis-Clark State College Packaging Design program, it's an artistic canvas limited only by the imagination.
The packaging and display industry needs packaging designers and LC State is helping to meet the demand by offering both a certificate (30 credits) and an associate degree (60 credits) in packaging design. The program prepares students for all aspects of packaging design, including colors, graphics, fonts, shapes and structure. The program is closely aligned with the college's Graphic Communications program as both feature a live shop working with different types of hardware and software that industry pros use.
In the Packaging Design program, students use the skills they have learned to create graphics for retail packaging and develop packaging designs.
"But graphic design is only a small piece of the pie in the packaging industry and job opportunities," said Andy Tuschhoff, an associate professor in both packaging design and graphic communications at LC State. "There is so much more to it. We have been broadening the courses to demonstrate this."
For example, Tuschhoff said the intro to packaging class looks at the different packaging materials available, including corrugated and paperboard, along with glass, plastic and metal. The class looks at how these different materials are produced and used in the billion-dollar packaging industry,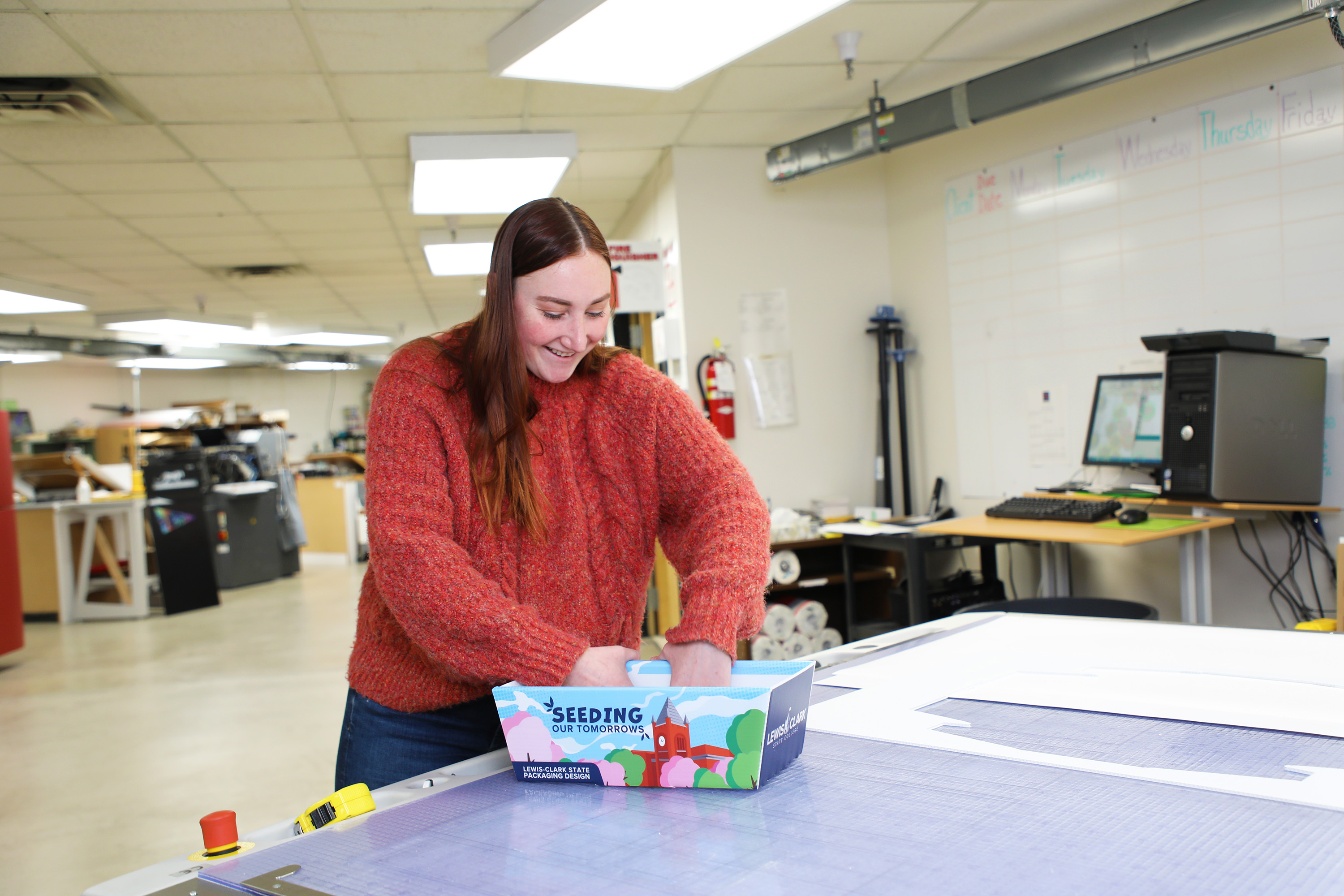 Other classes in the program include the array of Adobe products, including Illustrator and Photoshop, packaging structural design and graphics, point of purchase displays, and packaging optimization.
However, it's the connecting learning-to-life theme that gives students the upper hand. As well as being just one of a handful of programs in the West, the Packaging Design program has a live lab where students can output their creations. Students use Computer-Aided Design (CAD) software to create their design for a package and then use machines in the lab to print and cut the package to a specific size.
"There is a wide array of things to apply graphics to," Tuschhoff said. "From shipping containers to product boxes and labeling to can food labels. We even touch on the FDA requirements to be listed on food products."
The program also covers packaging design for point of purchase displays, such as on counter tops at convenience stores or end of aisles in grocery stores, as well as life-size stands promoting movies at movie theaters.
Tuschhoff said a challenge the students quickly learn about is matching creativity with the size of the package or label. For example, the students created a label for a wine bottle, which are fairly standard in size. Students had to establish the graphic style and branding for a new wine company while making the artwork and label shape unique enough to stand apart from competitors on retail shelves.
"There are a lot of things the average person doesn't think about with packaging and labeling that we constantly work with," Tuschhoff said. "You have to be conscious of the brand and the package and make sure it all works well together."
The students create several prototypes during classes. In 2022, students had the opportunity to work with the Weiser Classic Candy Company to create packaging that could be used for display candy boxes and shipping packages. The students were supplied the branding elements and colors already used by the company and came up with their creations in the LC State lab. Tuschhoff said the students then handed off their creative files to the company to use at their packaging facility.
Tuschhoff said LC students have worked for local companies, including CCI Speer and Clearwater Paper. Both companies have had students for internships and full-time positions. Students also take field trips to Spokane to tour packaging facilities there.
"If I was coming back to LC right now, this is the program I would be in, guaranteed," said Brian Kolstad, professor and program director for communication graphics, said about packaging design. "It doesn't matter your interest, in the sales or business side of it. You can make $100,000 to a quarter million on the sales side and $60-80,000 on the design side pretty easy. You could be working with video games, perfume, high-end fragrances, or about any industry you want."
Tuschhoff agreed there are high-paying jobs awaiting graduates especially if they are willing to relocate to where industries have their packaging departments. He said the Michigan area has some of the biggest packaging facilities in the United States.
"There are some really great careers out there and we encourage our students to use the partner organization job portals," Tuschhoff said. "Our students have real-world experience and are ready to work when they graduate."
Recently, LC State's graphics programs received 20 free licenses for Markzware, a quality control software program used by larger corporations that can be used to check for errors in PDFs and other documents that were produced in a variety of programs, including Adobe, Publisher and more. Kolstad said this kind of partnership with industry sets LC State's graphics programs apart from others around the state and Pacific Northwest.
Because the communication and packaging programs are connected and use a lot of the same software, Tuschhoff said it's common for students to double major and earn two associate degrees, which can be accomplished with an extra semester.
"There are so many things you can do with these degrees," Tuschhoff said. "Students are exposed to, and explore, a variety of creative options for their future career."
To learn more about LC State's Packaging Design program, visit its website. More information about the college's Graphic Communications program also can be found on its website.