LC State's 2023 Commencement
Friday, May 12, 2023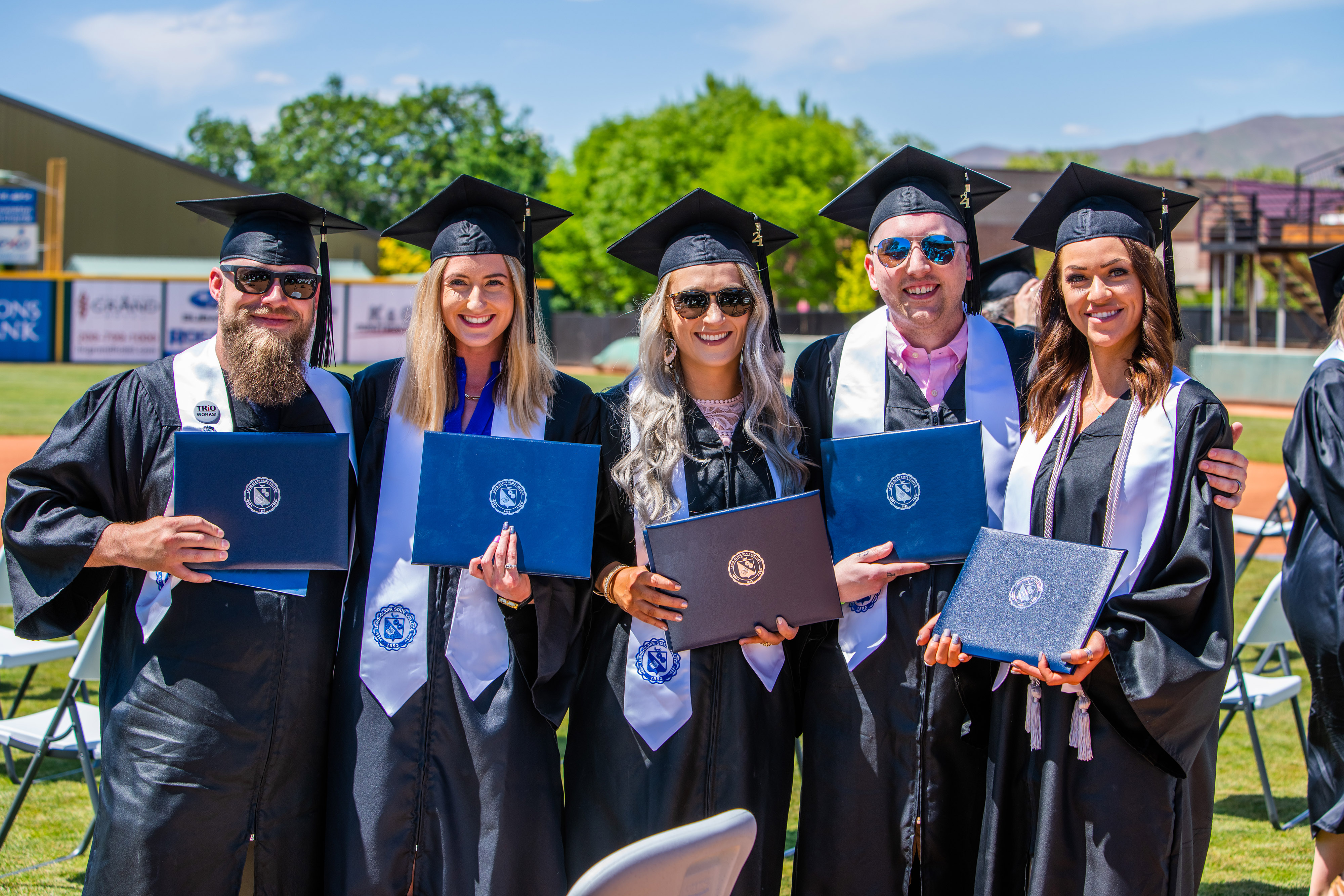 Congratulations! LC State is proud to recognize you among its alumni.
While adhering to state and local public health guidelines and restrictions (with safety protocols in place), LC State will have three (3) live, in-person commencement ceremonies for all graduates from the Lewiston and Coeur d'Alene campuses. There will not be a separate Coeur d'Alene ceremony.
Please read through each commencement link carefully to obtain important information regarding graduation. Be sure to check back with this website every couple weeks for updates. If you still have questions about the ceremony or any aspect of graduation, please contact the Registrar's Office.
Congratulations on your academic achievement!
2022 Faculty Emeritus
Scott has the longest tenure at the college among this year's retirees receiving emeritus status. He started teaching at LC State in 1980 in the electronics program and gave the college 42 years of service. The program has evolved over the years with many different instructors and program updates. Today the program is called Industrial Electronics Technology and now has three who teach classes. Industrial Electronics Technology now offers an associate degree as well as two certificates to prepare students for work in the development, installation, testing, maintenance and repair of electrical and electronic systems in industrial and commercial facilities. Scott was the one common thread that saw the program through all of the changes. He worked hard to keep the program current with his attainment of several degrees from LC State and his return to industry experiences.
Scott was able to enjoy three semesters at the new Schweitzer CTE Center after his work of getting his classroom and office moved. Over the years, Scott has served on many division and campus committees. Scott's quiet nature kept him engaged with behind the scenes work to continually serve the program and his students. His students valued his knowledge, kindness and guidance.
The electronics program has gone through many changes over the past four decades with Scott at the helm. Scott's legacy and contributions will long be remembered.
Erick started teaching in the Lewis-Clark State Auto Mechanics program in 1999. He came to the college with years of experience with Chevy and transmission repairs. During his time at LC State, he provided students with several opportunities to learn and grow through the Auto Club, SkillsUSA competitions, and community programs and events. His students regularly took part in parades, the Dogwood Festival, event parking, and fundraising events. Erick gave the program the rigor and reputation it has today by getting and maintaining the Auto Service Excellence (ASE)/National Automotive Technicians Education Foundation program accreditation.
Erick was dedicated to the college through his participation in many division and campus committees. An example of Erick's dedication to the program, division, and college is the key role he played in designing and moving the Auto Mechanics program to the new Schweitzer CTE Center. Erick kept his skills and curriculum current by returning to industry, being an Automatic Transmission Rebuilders Association member, and maintaining ASE Master Certifications. Erick has formed many community partnerships during his tenure at the college. More importantly, he helped and advised many students over the years and formed lasting relationships. His service on campus included chairing and serving on the Standing Promotion Review Committee.
Erick has been a mentor, leader, and friend to many in the Technical & Industrial Division.
Michelle Doty has been at LC State since 2005 as the coordinator for the Special Education Endorsement Program within the Teacher Education & Mathematics Division. She helped design curriculum, guide students, mentor interns and strengthen the area of special education in Idaho through her state, regional and national leadership.
Michelle earned her bachelor's and master's in special education, and her doctorate in education, all from the University of Idaho. Michelle began her teaching career in 1994 as a teaching assistant at Idaho. In 2002, she was hired as an instructor and then served the following year as an adjunct faculty member, both at UI. At the same time, she was an adjunct faculty member at Washington State University. She continued in those roles until being hired at LC State. In all, she has designed and taught 26 courses and created multiple opportunities for LC State students to mentor high school students and attend personal development workshops through state and national special education conferences.
In addition, she has strengthened high school special education programs across the state by originating and coordinating the annual Tools for Life Conference for the past 17 years and establishing the Student and Professionals Accessing Resources in the Community (SPARC) Program here, establishing an apartment off- campus for high school special education students to take courses and learn life skills with the support of LC State's pre-service teachers.
Michelle and her husband Randy have been married for nearly 40 years and they have three children Justin, Chase and Brittney. She spent many years advocating for Chase who was diagnosed with Spinal Meningitis at 10 months of age. That led her toward her passion for special education.
Tracy has been an essential team member, mentor, generous friend, and esteemed colleague at LC State since 1999. Her nursing colleagues say her enthusiasm for learning and curiosity has been contagious and certainly improved day-to-day activities for both students and faculty.
Tracy earned her bachelor's degree in public administration from New York University where she was an Honors Scholar. She later earned an associate degree and bachelor's degree in nursing at LC State, her master's at Idaho State, and a Ph.D. in organizational leadership and social justice from Gonzaga. Her final credential was a family nurse practitioner certificate, which allows her to pursue her passion of serving others within the campus, the community, and on mission trips abroad.
Tracy's nursing experience includes acute care specialties such as medical/oncology, labor/ delivery, and maternal/newborn care. She also served as a public health nurse and health promotion coordinator before arriving at LC State. Her creativity has benefited the college because she has created new courses, program tracks, academic partnerships, certificates, and curricula. Her collegiality allowed Idaho to be one of three innovative states to develop concurrent enrollment programs for associate degree students to simultaneously complete a bachelor's degree in nursing.
Courses she developed and taught include traditional and online sections of healthcare policy and economics, healthcare finance, management and leadership, community health theory and practicums in several different specialties. Her passion for service to diverse and underserved populations, including the homeless, those with HIV and AIDS, cancer patients and those with chemical addictions, has driven much of her work.
Debbie brought a wealth of knowledge to the college when she began teaching for the Business Division (now Business & Computer Science Division) in 2002. She previously had been working as a human resource manager and in the human resource field for more than 20 years, much of that time spent in Boise and Seattle with large businesses. Debbie and her family moved to the area in 1999.
Debbie earned her bachelor's degree in business administration at Boise State and then her MBA from the University of Washington. She brought her private sector experience to the college and put it to great use. Debbie's primary teaching assignments included human resource management, and management and leadership. Her students regularly raved about her and her teaching methods. She was so admired by her students that they nominated her for a National Society of Leadership and Success award. She also helped with the Business Student Organization, a club for business majors at LC State that regularly volunteers at various events, including golf tournaments and the Dogwood Festival.
Debbie has won several awards at the college, including receiving the President's Award for Outstanding Teaching in 2017 and the Annice Edmundson Faculty Excellence Award in 2020. She also received her division's Faculty of the Year award in 2007 and was chosen for the CAMP Professor Award as well. In addition, she has served on numerous boards at the college, including Hearing Board, Student Leadership Advisory Board, the division's accreditation team, and several search and promotion/tenure committees. She also has been involved in the community through a local motorcycle club's Toys for Tots drive and with the civic theater along with her husband Larry.
A faculty member in teacher education, Bill gave 28 years of excellent service to LC State, both in the classroom and in building relationships with school partners throughout the Pacific Northwest.
Bill has been recognized on multiple occasions for his knowledge, expertise, and excellence. He has been awarded the ASLCSC Award for Excellence in Academic Diversity, the President's Award for Excellence in Diversity and Cross- Cultural Understanding, the Fernandez Faculty Excellence Award and the Warrior Athletic Association Academic Faculty/Staff Award. Bill's expertise in diversity and inclusive education is highly sought after. He is a longtime member of the LC State President's Commission on Diversity and the Idaho Indian Education Committee. Additionally, he is a respected and accomplished speaker having presented at the LC State Native American Awareness Week, the National Indian Education Association Conference, several Indian Education conferences, the LC State Leadership Series and the Native American/Minority Student Services Leadership Retreat.
Bill secured the American Indian Students in Leadership and Education Grant for $1.2 million. This grant helped established Pi'amkinwaas on campus, a number of student scholarships, technical assistance and professional development for Pacific Northwest tribal schools, summer institutes for teachers from across the western United States, diversity field trips for teacher preparation students to Seattle, Tacoma, Portland, and Tillicum Village, and diversity training events on campus and throughout the valley. Bill also has served the LC State athletic department by being a speaker and emcee at various events.
Bill and his wife Jennifer love spending time with their children and grandchildren, as well as time on the Oregon Coast.
Chris Norden taught at Lewis-Clark State for 30 years, in which time he championed social and environmental justice in his teaching, advising, service, curriculum development, and research. His work in particular helped facilitate collaborative relationships between the college and the surrounding indigenous communities.
After graduating with bachelor's and master's degrees in English from the University of Virginia, Chris received his Ph.D., in English from the University of Wisconsin. Chris was hired by LC State in 1992 to teach classes in modern literature, writing, and environmental studies. In his time at the college, Chris served on many major committees and has developed many popular classes. Chris was the co-founder and first president of LC State faculty union (American Federation of Teachers), founder of the Uncommon Reads reading group, and founding faculty sponsor of the KLCZ-FM campus radio station.
In addition, Chris utilized sabbaticals to serve as Visiting Professor in China and Taiwan, as well as Visiting Scholar in Alicante, Spain. Chris taught a graduate seminar on American Environmental Literature and Philosophy at Huafan University in Taiwan and gave the keynote address at an international ecocriticism conference. Recently, he has organized a series of workshops to develop indigenous ways of knowing and ecological values curriculum, in collaboration with various Nez Perce elders and teachers. He is currently organizing a panel titled "Missing Sisters: Nez Perce Women & the Missing and Murdered Indigenous Women Movement," which includes a number of LC tribal alumni.
Chris would like to recognize and remember his friend and colleague, the late Jim Tarter, who was a fellow professor of English in the Humanities Division until his passing in October of 2011.
Liz Scarano graduated from nursing school in 1977 and has devoted over 45 years of her life to the profession of nursing. Liz has been a valued faculty member since 2007. She was assigned to teach pharmacology her first year and taught a variety of nursing classes over the years. A class she consistently taught since day one is pharmacology.
Liz has enriched student and faculty experiences by her amazing ability to teach complex subjects in a very understandable and simplified way. She treated students with the utmost respect and often was found in her office helping students on an individual basis. Because she is so approachable and friendly, students often sought Liz out. She made them feel worthy. One faculty member said "Liz is a natural at building people up. Whether it's another faculty member or a student. When you leave her presence, you can't help but feel better. It's hard to quantify just how impactful Liz has been here at LC. Literally hundreds of students have been impacted by her teaching. In turn, thousands of patients have been touched as well through her capacity to influence students in the most positive ways. Students aspire to be like her. She really is an amazing role model, for students and faculty."
Liz has been a nurse in mostly rural settings, which helped her experience all kinds of situations. She is truly a jack of all trades, from pediatrics, obstetrics, medical-surgical, emergency room to whatever came through the door. She used every bit of this life experience to enhance learning for her students. She has been published in several nursing journals as well. She wrote articles for "Bariatric Nursing and Surgical Patient Care." She has contributed to text books by writing national licensure questions. Liz has enjoyed giving presentations to the community as well.
Both Lewis-Clark State and the LC Valley are grateful for the time and effort Jill Thomas-Jorgenson has put into the business community, both in her 23 years at LC State and in her previous positions of helping businesses thrive.
Jill is a 1979 graduate of the college and served as executive director of Banana Belt Senior Citizens before becoming heavily involved with aiding the local economy. She was the economic development director for the Port of Lewiston and then went on to became the director of the Port City Action Corp. Where she helped downtown businesses in Lewiston.
She began her work association with the college as the Dogwood Festival coordinator in the 1990s. She taught some classes for the Region II Idaho Small Business Development Center before she took over as the center's director. In 2002, Jill began teaching for the Business Division in conjunction with her director duties at the center. As an adjunct faculty member, she taught over 35 courses for nine years and then joined the Business Division as a full-time assistant professor in the fall of 2011. During her time as the Region II SBDC director, she put on several workshops and classes for people interested in starting a business or to help them with their current small business. In 2009, she received the Women's Leadership Award at the annual Women's Leadership Conference of the Inland Northwest.
Jill provided extensive service to the college, including coordinating the Entrepreneurial Challenge and Senior Capstone course, and she has served on numerous committees. Jill's students and colleagues love her. She taught a variety of classes, including leadership, and her students praised her regularly for her positivity and upbeat attitude. Jill was honored with the LC State Alumni Association's Excellence in Education Award in 2019.