If you think a mail piece might require special packaging or paperwork to be mailed, please contact the mailroom so we can advise you and possibly provide the correct packaging and forms.
Certain items, such as pens, keys etc., cannot be mailed in letter-sized envelope at the first class letter rate ; they should be placed in appropriate packaging/ envelopes for mailing.
Please make sure your correct postage budget code number is on at least the top piece of mail of each bundle.
Currently, our mailing machine cannot auto seal small (approx. 4" by 5") invitation envelopes. Please seal that type before sending them to the mailroom.
Please seal overstuffed envelopes prior to bringing them to the mailroom.
Please seal any Pre-stamped mail.
Please mark out any old labeling and bar codes on reused boxes.
Keep the upper-right-hand corner of metered mail free of words, stickers, or printing.
Example: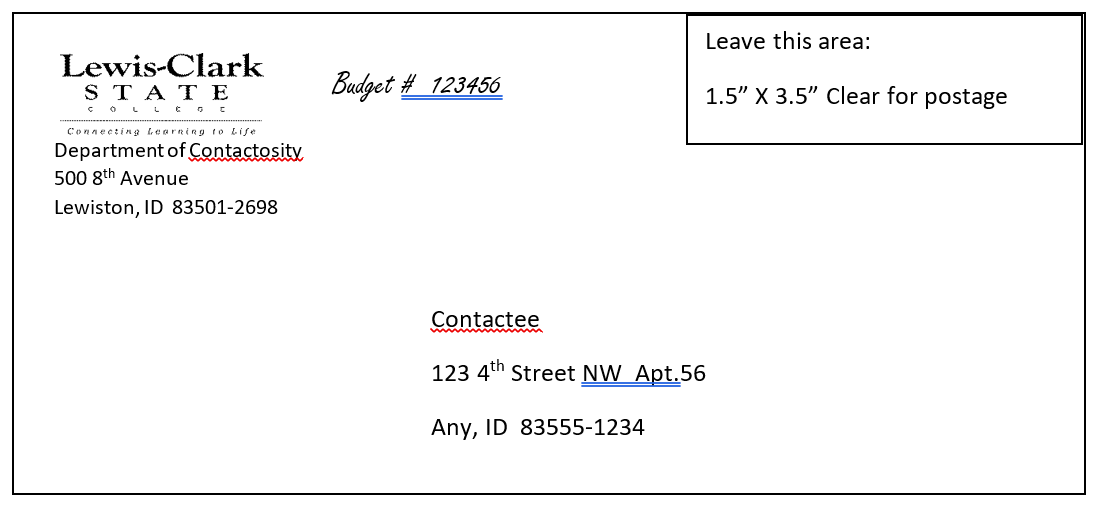 Please keep the Mailroom informed of any changes to your Cost Center number(s)
Mail, other than just documents, to foreign or Military APO/FPO destinations require an appropriate Customs Form. The campus mailroom has these available and we can assist you in filling them out.
Mail pieces that are folded or have open ends like flyers, newsletters or booklets must have tab closures on them. The number and placement of the closures varies according to the type of mail piece. Please contact the mail room or Campus Printing before mailing for specifics about any mail with open sides