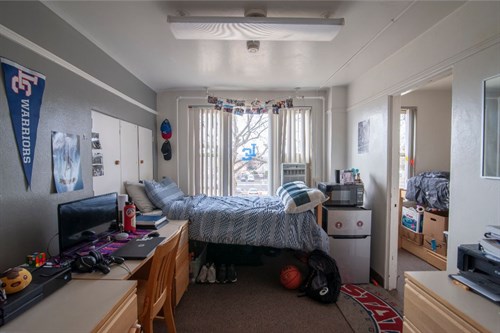 As one of our two traditional style halls, Clark hall offers an inclusive and social experience.  Residents are typically found gathering in the common areas, or if they are in their rooms, their doors are open to allow friends to stop by and visit.
Clark Hall is a traditional style hall that was built in 1955.  Located on the south side of campus, it is near the athletic center, T & I buildings, and baseball field.  It offers two common gathering areas that have amenities like couches, cable television, and ping pong. Each bedroom has a window air conditioner unit.  There is a shared kitchen in the basement.  Each floor has their own bathroom and showers.
On Campus:  Yes
Room Types:  Singles, Doubles, Triples
Available to:  All class levels
Capacity:  85, Co-ed by floor
Size: 9'3" x 12'2" on average
Staff:  5 Resident Assistants, 1 Residence Director
Parking: Parking is located in 4th Street main campus parking lot or 11th Ave small parking lot.
Meal Plans: Meal Plan 1 or Meal Plan 2 required.